Car Accident Injury Treatment in Smyrna
At East/West Spine and Rehab, our chiropractic care team understands the challenges car accident injury victims face. Whether you need help recovering from an injury, managing neck and back pain, or working with your insurance company, our team is here to assist you.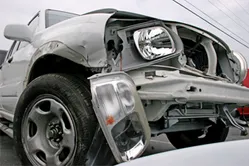 Early diagnosis and treatment can make a big difference when it comes to healing after a car accident injury. A prompt evaluation can diagnose underlying injuries before the onset of chronic back and neck pain, headaches and migraines. Early diagnosis can also help ensure that auto injury victims receive full compensation for their injuries. That's why at East/West Spine and Rehab, we work closely with insurance companies and attorneys to ensure injury victims receive the care they deserve with little or no out-of-pocket expenses.
Smyrna Chiropractor Cares for Whiplash, Back Pain and Neck Pain
Our Smyrna chiropractor Dr. Ara Leguizamon has substantial experience diagnosing and treating injuries like whiplash. Many of these injuries have no immediate symptoms after an accident, even though serious trauma may have occurred to the musculoskeletal system. In fact, it's normal to walk away from an accident thinking that you have only suffered a few bruises.
In reality, you may have sustained serious musculoskeletal damage that is not evident until weeks or even months have passed. For example, accidents at speeds as slow as 5mph can cause whiplash and a misalignment to the musculoskeletal system. The earlier we treat these injuries, the more we can do to minimize pain.
A prompt evaluation from Dr. Leguizamon helps to identify a car accident injury before the onset of chronic pain. Our center features an on-site diagnostic X-ray facility along with chiropractic care, medical and rehabilitation services. This ensures that our Smyrna chiropractor can precisely diagnose a car accident injury and get you back on the path the good health.
One of the most common car accident injuries is whiplash. This injury occurs when the force of a rear impact whips the cervical spine abruptly beyond its normal range of motion. This backwards and forwards movement can shift the spine out of alignment, while also straining muscles in the shoulders and neck. Our Smyrna chiropractor offers spinal adjustments to help restore proper alignment to the spine, relieving pressure on the nerves. Restoring alignment prevents the build-up of scar tissue and reduces the risk of future injury.
We provide chiropractic care to treat a herniated or bulging disc, sciatica, headaches, migraines, and other soft tissue injuries following a car accident. Just like with a whiplash injury, a mechanical misalignment of the spine can lead to chronic back pain, neck pain, headaches and migraines. Our gentle, hands-on adjustments are a safe and effective way to restore alignment to the body.
We are committed to doing everything possible to make treatment easy and affordable for Mableton, Marietta, Austell and Smyrna car accident injury victims. We offer same-day appointments, and no out-of-pocket expenses to the non-fault driver. Our Smyrna chiropractor also treats personal injury and sports injury patients.
If you are the victim of a car accident injury, call us at (770) 432-5600 today.